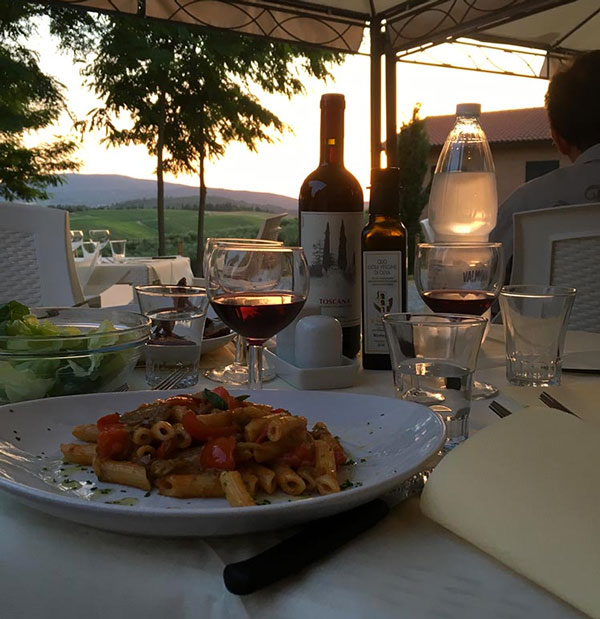 Vous pourrez goûter les saveurs locales comme par exemple des gâteaux maison, "la ribollita" ou "la Fiorentina" (une sorte de steak) accompagnée de nos légumes frais de saison assaisonnés avec notre huile. Il est également possible de réserver une dégustation de vins, de fromages et de charcuterie typiques. Open every day also to external customers. Visita il nostro sito: www.ristoranteilsambuco.it/ - Instagram: www.instagram.com/ristoranteilsambuco/

Ci - dessous vous trouverez quelques-unes de nos propositions pour le menu:
Crostini misti
(sliced and roasted bread tomato, artichoke, chicken liver patè and extra virgin olive oil topped) € 5,00
Antipasto Toscano
(cold cuts of cured meats) € 8,00
Pecorinimisti con il miele
(a mix of sheep milk cheese with honey) € 7,00
Penne alla "pomarola" o alle zucchine
(pasta with tomato or courgette sauce) € 6,00
Pappardelle al sugo di cinghiale
(egg noodles with wild boar sauce) € 9,00
Pici "Cacio e Pepe" o all'aglione
(noodles with pecorino cheese and pepper or with tomato sauce and fresh garlic) € 7,00
Picio (or) Pappardelle al sugo
(same pasta as above beef meat sauce) € 8,00
Bistecca alla Fiorentina
(T-bone steak, min. 1.2 Kg.price per 100 gr.)(all'etto…) € 4,00
Tagliata aglianti chisapori
(sliced beef meat dressed with hot extra virgin olive oil and a mix of sage and rosemary) € 13,00
Grigliata mista
(porkgrilled mix) (salsiccia, rigatino e scamerita) € 12,00
Peposonotturno
(beef chops cooked slowly into red wine and grains of pepper) € 10,00
Ossobucoallasenese
(veal shanks Sienesisreceipe with tomato sauce) € 12,00
Cinghiale in umido
- Boar stew € 13,00
Verdure grigliate
(grilled courgettes and aubergines) € 4,00
Insalata mista
(mix salade) € 3,50
Patate al forno
(roastedpotatoes) € 4,00
Verdure al forno
- Baked vegetables € 4,00
Tiramisù
€ 4,00
Panna cotta al cioccolato o al caramello
€ 4,00
Torta fondente del Chianti
(all-chocolate cake, servedwarm) € 4,00
Cantucci e vinsanto
(typical almond cookies and sweet wine) € 6,00
Dolci senesi e vinsanto
€ 7,00
Vino rosso in caraffa "BIO" Il Poderaccio
€ 6,00/l.
Vino bianco di Fattoria da "Il Ciliegio"
€ 6,00/l.
Acqua minerale
€ 1,00
Bibite in lattina
(sodas) € 2,00
Caffè
€ 1,00
Grappe e digestivi
(bicchiere) € 4,00