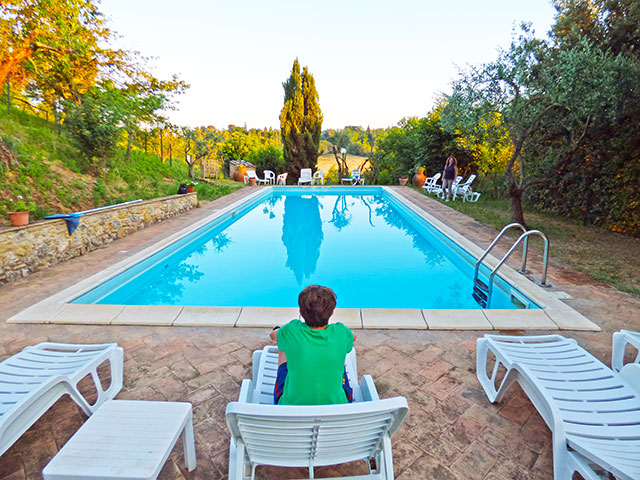 In the summer months (from 01/06 to 30/09) in an extremely quiet and private corner of the farmhouse and surrounded by the greenery of the garden, you can find the swimming pool - 5 meters x 14 meters - with a panoramic view of the Tuscan countryside, where you can relax and spend your holiday in peace.
Our illuminated swimming pool, exposed to the sun all day, is at the complete disposal of our customers from 09:30 to 19:00.
Sun beds and umbrellas are available for guests. Adjacent to the swimming pool is the barbecue area equipped for outdoor dining.
The water depth ranges from 0.6 to 1.6 meters and therefore access to the pool is allowed for children if accompanied by an adult.
Regulations for use of the swimming pool
(article 10 of the Tuscan Regional Law N.8 / 2006)
Users are required to comply with the following rules:

1. The maximum number of swimmers present in the area at the same time must not exceed 36 people
2. The depth of the basin varies between 70 cm and 160 cm (pay attention to the entrance ladder)
3. Diving is forbidden
4. It is recommended not to get wet if three hours have not elapsed since eating a meal
5. It is mandatory to use rubber slippers on barefoot paths
6. It is mandatory to wear a cap, take a shower and pass the foot wash basin before entering the tub
7. It is forbidden to climb over fences and bring in animals
8. The nearest toilets are located near the DIRECTION or it is advisable to use those present within the individual housing units
9. Access to the swimming pool is allowed from 9.30 to 19.00
10. The BATHING ASSISTANT is not present
11. Access to minors is prohibited unless unaccompanied
12. In the event of adverse weather conditions (storms, strong winds, etc.), it is forbidden to access the pool area
13. For any eventuality and to activate an alarm, refer to the
MANAGEMENT 14. The person in charge of the swimming pool is Mr. Manenti Stefano. For contacts call 3396896611 or the management at 05771653011.
15. The first aid devices are listed below (useful numbers)
16. In the event of a person in difficulty, please use the life jacket placed next to the swimming pool
17. In case of need, the first aid box is available at the MANAGEMENT of the farm holidays 18. It is strictly forbidden to bring bottles or other glass containers into the pool
19. It is strictly forbidden to lean over the railings and parapets present
20. It is strictly forbidden to enter the pool area outside the opening hours
21. The use of the swimming pool is allowed only to the guests of the
farmhouse 22. Guests are required to maintain appropriate and adequate behavior in respect of other people present
23. Guests are kindly requested not to leave their wallets and belongings unattended
24. The management declines all responsibility for non-compliance with the rules indicated in this regulation
Guests who do not respect this regulation will be kindly removed from the swimming pool.

Useful numbers: FIRST INTERVENTION 112 - CARABINIERI 112 - POLICE 113 - FIRE BRIGADE 115